How to Stay Motivated on the Indoor Trainer
Crush your rides on the indoor trainer and stay motivated with this advice
Indoor trainers are a great way to stay fit and on top of your training. You can catch up on your favorite show, keep an eye on the kids, or avoid cycling in inclement weather. Using your indoor trainer is a great way to avoid air pollutants and the dangers of traffic. Hop on your indoor trainer and keep working towards your goals and continue to track your progress. You can set your own pace and follow what's on your training plan. Select the resistance levels and choose your mileage to mimic an outdoor ride. During unfriendly cycling weather, indoor trainers provide a great way to maintain your training schedule. The tips below will help you stay motivated when riding your indoor trainer.
Pro tip: train with what's most optimal for you and your budget. Learn about the difference between trainers and rollers. The advice below can apply to both of them!
Set a goal for your ride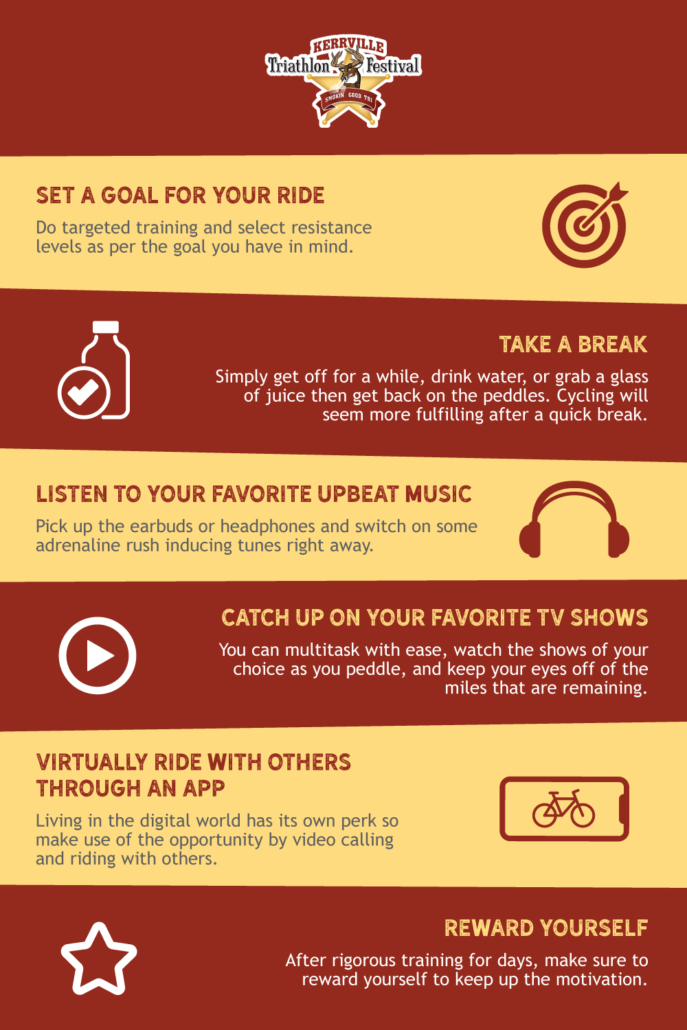 Whenever you swim, bike, or run during training you should have a goal set. Whether it's time, distance, or level of difficulty, accomplishing a small goal will help with your larger goal. You should do this whether you're cycling outdoors or using the indoor trainer. Target your ride, distance, intensity, and resistance levels to help you accomplish your goal.
Take a break
Breaks work wonders and can make your triathlon training session more engaging. Simply get off for a few minutes. You can stretch, hydrate, grab something to eat, and get back to riding. Your body will feel more refreshed after a quick break. A break from the indoor trainer can be just like stopping at a gas station on your long ride to refuel.
Listen to your favorite upbeat music
Let's be real. Music helps improve our focus. Pick up the earbuds or headphones and switch on some adrenaline rush inducing tunes right away. Listening to music is much safer on your indoor trainer than the open roads. You should never listen to music when cycling on the roads. You need to listen to your surroundings and be completely aware of what's going on. But if you're on the indoor trainer, add these 5 songs to your playlist and crank it up!
Catch up on your favorite TV shows
You can multitask with ease. This is one of the distinctive benefits of using an indoor trainer. Busy schedule keeping you from the latest season of your favorite show? Turn it on during your workout and the miles will fly by. If your training calls for a longer ride, click play on one of these sports movies on Netflix. This way you don't have to mess with changing the channel or choosing another episode on your long ride.
Virtually ride with others through an app
Training in the digital world has its perks, especially if you're riding indoors. If you can't ride outdoors, there are many apps that allow you to complete a tough workout or ride virtually with your friends. You can even cycle anywhere in the world! This is a great way to stay motivated and switch up your indoor trainer routine. If you plan to use the app Zwift, check out this helpful guideline to get started.
Reward yourself
Just like any training, make sure to reward yourself. This will help keep up your motivation. Rewards for crushing smaller goals should be the same whether you're outdoors or not. Your big goal is rewarded by crossing the finish line. Make sure you reward those smaller goals to keep chasing the larger goal! You could book a massage or get take out from your favorite restaurant.
In the digital era, indoor training has become far more engaging than we can imagine. You can catch up on your favorite shows, ride anywhere in the world, or challenge your friends. You're also able to mimic various elements of your training plan, including resistance, difficulty, and duration. This helps you maintain your training and stay on track. Make sure you reward yourself when you hit those smaller goals on your way to your bigger goal!
https://kerrvilletri.com/wp-content/uploads/2020/12/911699_Kerrvilletri2020HowtostaymotivatedontheindoortrainerFeature_120920.jpg
400
495
Kerrville Tri
https://kerrvilletri.com/wp-content/uploads/2020/05/KERRVILLE-10-YEAR-ANNIVERSARY-LOGOKERRVILLE-HEADER-LOGO-WEBSITE-2020-300x111.png
Kerrville Tri
2020-12-16 05:21:16
2020-12-16 09:29:26
How to Stay Motivated on the Indoor Trainer