Ambassador Blog: Training and Racing Over 50
If you bought a 50-year-old Porsche 911 everyone would say you bought a classic car, but when athletes turn 50 people tend to think they become junk heaps.
The athletes themselves know that training at 50+ can be just as rewarding and fun as racing when you are younger and stronger. It just takes a different focus, and your training needs to be modified, to fit your older and more worn body.
Specificity, strength, speed, and rest become the most important part of maintaining a racing lifestyle for an athlete over 50.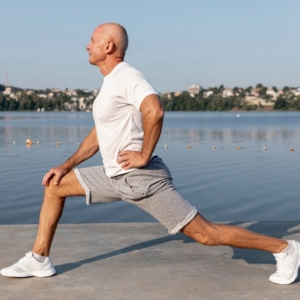 Specificity
Specificity is training to fit your racing.  It makes no sense to ride 100 miles if you are training for a 10-mile Sprint Tri, or swim 7 days a week when your swim is 500 yards.  Your training needs to be focused to fit your goals and the races you choose. If your races are long, then long, slow miles are in order whereas shorter races will call for more intense workouts of shorter duration. Your body can usually handle intensity OR distance but not usually both at the same time.
Strength
Every triathlete should be doing 2-3 days of strength training a week.  Triathlon has your body using muscles in a very limited range of motion for long periods of time. Strength training can keep your muscles balanced and help prevent injury.  No need to focus on the physique of The Rock.  Your strength training should be lower weight and higher reps.  Leave the high weight and low reps to the muscle-bound mirror watchers at the gym.
Speed
Speed is often forgotten as athletes age.  They tend to do lots of "Junk Miles" meaning they slog through a slow 20 mile ride or shuffle 10 miles on the run.  Those can be helpful on easy days, but on the hard days, you need to bring intensity.  Go to the track on your hard days and push your speed.  Do some hard and fast 100's in the pool, or try out fins.  You only increase your speed by doing the activity at a higher pace. Keep in mind that your body cannot handle the same intensity as the younger athletes. Don't try and keep up with the 30-year-olds at the track.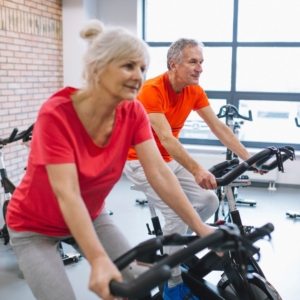 Rest
Rest is the most underrated training tool that triathletes have yet it holds so much power. Getting to a workout after a miserable night's sleep and then pushing yourself is a recipe for injury and no fun.  You should try to get 7-8 hours of good solid sleep every night.  If you get up at 4:30, to meet your running group, you need to be in bed by 9:00 or even 8:30.  You can train yourself to go to be early. Getting your body to adjust to an early bedtime is just like any other training you do.
Racing and training over 50 can be incredibly rewarding. When you pass another 50+ athlete you always get a "hey" or head nod.  They know what you are doing to still be active, and fast, and they appreciate it.  It's like joining a Porsche Club for classic cars only you have joined the club of Athletes Over 50. These club benefits are the most rewarding you will find.
Persistence can be your secret weapon.
Author Bio: Steve Mallett has been racing triathlons since 1984 and has completed over 120 races.  He has completed many 50 mile running races and in 2019 completed the Rim to Rim to Rim in the Grand Canyon.  He loves training with new and veteran athletes.  Steve has the nickname Realtor Runner, is a former USA Triathlon coach, a Kerrville Triathlon Ambassador, and is a member of Team Zoot.
https://kerrvilletri.com/wp-content/uploads/2022/03/1320779_Kerrville-Blog-Training-and-Racing-Over-50-2_495x400_031522.png
400
495
Kerrville Tri
https://kerrvilletri.com/wp-content/uploads/2020/05/KERRVILLE-10-YEAR-ANNIVERSARY-LOGOKERRVILLE-HEADER-LOGO-WEBSITE-2020-300x111.png
Kerrville Tri
2022-03-17 12:04:49
2022-03-17 12:04:49
Ambassador Blog: Training and Racing Over 50