From songwriters to one of the largest grocers in the US.
We know Kerrville as the home of the most scenic triathlon in Texas, but it's also the home of some pretty legendary superstars. Keep reading to find out 4 famous people you didn't know were from Kerrville.
Robert Earl Keen
Robert Earl Keen is an American singer-songwriter legend in the music industry. Keen's music spanned many styles including folk, country, bluegrass, and rock, although he is most widely credited for his influence in Americana music. He was inducted into the Texas Heritage Songwriters Hall of Fame in 2012. Keen is a Texas A&M graduate whose career sparked from playing shows in Austin, Texas and other famous music halls. While Keen struggled to become a mainstream artist, his music grew to be widely appreciated and influenced some of today's biggest country music stars. His songs were covered by many musicians including George Strait, Joe Ely, Lyle Lovett, The Highwaymen, Nanci Griffith, and the Dixie Chicks. In 1983, Keen won the New Folk competition at the Kerrville Folk Festival in Kerrville, Texas. Staying close to his roots, Keen continues to tour around Texas and will be at Austin Rodeo, and even has a show in Kerrville on March 7th!
James Avery
James Avery, now a household name, started as man designing jewelry in his mother-in-law's garage in Kerrville in 1954. The one-man business was a huge success and continued to grow and gain popularity and James Avery Artisan Jewelry was born! Staying true to his roots, the first every James Avery retail store was opened in Kerrville in 1973.   Avery's jewelry became very popular in the Texas Hill Country and still is to this day. This world-renowned company has over 50 stores located in the U.S. and 5 manufacturing plants, one is in the heart of Kerrville. Truly a family business, James passed his legacy onto his son, who is now the current CEO.
Howard Edward Butt Sr.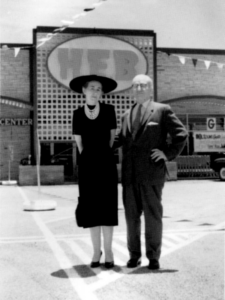 Howard Edward Butt Sr. was son to Florence Thornton Butt and pharmacist, Charles Butt, who relocated to Kerrville, Texas in 1905 for the drier climate to combat his father's tuberculosis. Florence opened a small grocery store below their apartment as a place for locals to get their groceries. Once Howard was in high school, he took over the store as a manager. After a brief stint in the Navy, Howard returned home to run the store with his mother. Although his first attempts at expanding the family business failed, he achieved success when he opened a store in Del Rio, Texas. In 1935, he changed the name of the company to H.E. Butt Grocery which was eventually shortened to, you guessed it, H-E-B. The first supermarket was opened in Corpus Christi and was credited as one of the first places a shopper could purchase meat, fish, produce, baked goods, and personal care products under a single roof. The rest is history with H-E-B being classified as the twentieth largest retailer in the United States.
Jimmie Rodgers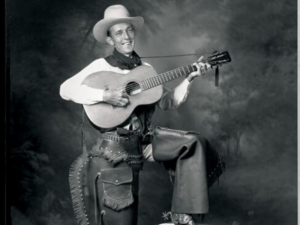 Jimmie Rodgers was an American singer-songwriter and musician who rose to popularity in the late 1920s. Best known for his distinctive rhythmic yodeling, Rodgers is widely known as the "Father of Country Music". Rodgers rose to stardom from his recordings rather than concert performances, which was very uncommon at the time. He is credited as an inspiration for hundreds of artists after his time in both country and blues music. Rodgers reached the peak of his career and chose to build his dream house in Kerrville, Texas around 1929. The house still stands on the intersection of Main and Jackson on a hill that overlooks the town. His most popular hit, Blue Yoddlle No. 1 was even covered by Lynyrd Skynyrd. His other works were celebrated and honored by stars such as Elvis Presley, Bob Dylan, and Hank Williams who publicly gave Rodgers praise and credited him as a music legend. Rodgers was enshrined in the Country Music Hall of Fame and is still celebrated to this day.
https://kerrvilletri.com/wp-content/uploads/2020/03/4-famous-people-from-Kerrville-TeexasWP.feature.image_-2.png
400
495
Kerrville Tri
https://kerrvilletri.com/wp-content/uploads/2020/05/KERRVILLE-10-YEAR-ANNIVERSARY-LOGOKERRVILLE-HEADER-LOGO-WEBSITE-2020-300x111.png
Kerrville Tri
2020-03-04 16:11:42
2020-04-08 10:21:53
4 Famous People You Didn't Know Were From Kerrville