Anyone who says "you can't" complete a triathlon is wrong
No one should tell you that you can't do something. Ever. This blog post will inspire people who want to train for a triathlon, but have been told in some way they shouldn't. Triathlons are tough and require training, but don't let anyone stop you from doing what your heart desires! Remember, anyone who says "you can't" complete a triathlon is wrong; YOU CAN! These 11 steps will guide future triathletes through the process of preparing for their first race. For an extra boost, print out the PDF below and place it where you'll see it every day!
11 beneficial steps for future triathletes
Find your heart's desire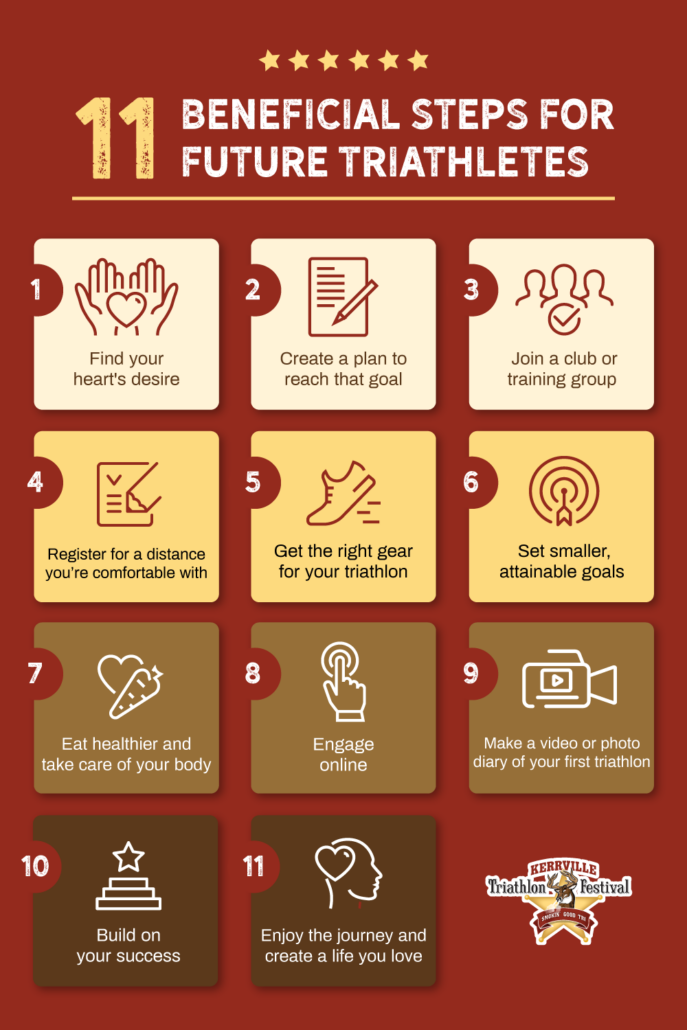 Why do you want to do this? Are you looking for structure that'll lead to a healthy and active lifestyle? Let's say you want to do it because you think you might like to be part of an active community. You've discovered that you really enjoy training with other people. You enjoy the challenge of pushing yourself and getting out of your comfort zone. As a social person, you like to be around other people more often than not. There are lots of reasons, find yours. That's your starting point! 
Create a plan to reach that goal
Do you want to do an Olympic triathlon? A sprint or half distance? Your training time frame is dependent upon the distance you want to complete. You'll need at least 3 months to prepare for a sprint triathlon. If you're thinking about your first half-distance triathlon, you'll probably need a year. Once you determine your goal distance and training time frame, you should decide if you have a set finishing goal time or if your goal is to finish and have fun. Once you have your goal, there are tons of free online training plans or you can hire a professional coach.
Join a club or training group
There are plenty of groups around the world who will help you. Check your local community too. Chances are there's a group that meets up for swims, rides, runs, and brick workouts. If there isn't one in your area, start a group. It's a great way to connect with other people who share your interest.
Register for a distance you're comfortable with
If you're just starting out, Kerrville Tri's Rookie sprint distance is perfect. The Rookie distance includes a 300m swim, 14-mile bike ride, and 2-mile run. It's an introductory distance that's an ideal starting point and doesn't require a longer training time frame. The shorter distance will give you the confidence to try a longer distance later. Check with your club or group, they might have discounts or a code that you may not know about. 
Get the right gear for your triathlon
You'll need a good bike and the right gear for training and competing. Train in the type of gear you'll wear on race day. It'll help you get comfortable with items like goggles, a wetsuit, or elastic laces in your running shoes. Make sure you buy a bike that fits you and your needs. Chances are there's a bike shop near you that can help you find the perfect ride. Don't start shopping until you read these bike buying dos and don'ts.
Set smaller, attainable goals 
An example of a small goal when first starting out might be "Run my first mile without stopping." Another example might be "Complete 2 swim workouts every week." You could also "Work on bike skills" during a ride. Once these short-term goals become habits, set new ones that are slightly bigger so you can progressively work towards completing your future race! Remember: you have the power to change your body through exercise
Eat healthier and take care of your body
A well-balanced diet of fruits, vegetables, and protein is an excellent starting point for a healthier diet. You can't out-train bad eating habits and you'll need the energy for training. Don't skip meals or count calories while training. Stay active during your non-training time. Take walks, foam roll, or ride bikes with friends if you want to stay active on rest days. These are excellent habits to establish before, during, and after training. Don't underestimate the importance of rest days!
Engage online
Find inspiration when you engage on social media with the event you're training for and the different triathlon communities. If you're not sure where to start, join the Kerrville Triathlon Facebook Group and follow us on Instagram. Comment on posts with questions or request blog topics that you think would be helpful in your journey.
Make a video or photo diary of your first triathlon
This is a great way to document your progress and inspire others who have been following your journey.  Share it on Instagram, Facebook, or any other social media account that would be helpful in reaching people who are looking for inspiration. This is also a great way to look back on your experience in its entirety. Plus, it's a nice little reminder for the people who said you can't complete a triathlon!
Build on your success
Don't let bad days get you down, they happen. Miss a training day – no problem. Just pick up where you left off and keep going. Feeling under the weather? Take a day off. It's important to keep the momentum going. Building on your success extends beyond training to the finish line. Once you achieve your main goal, don't stop there. Find your next event and keep the training train rolling!
Enjoy the journey and create a life you'll love
You never know what you're capable of until you do it. Training for a triathlon can lead to a life that is full of amazing and supportive people, healthy habits, and a consistent confidence booster. Keep in mind that your smaller goals will lead to your main goal. Think of them as building blocks. Enjoy the journey because you'll never train for your first triathlon after you cross the finish line. 
Don't let people tell you "you can't." Get inspired and train for a triathlon! You have the power to change your life through exercise. Training for a triathlon isn't easy. Plan well, avoid these 6 mistakes, and be strategic so  you can get your body ready to crush it. And if all of these things sound too hard? Let us know. Our team would love to share our expertise and help get you to the start line!
https://kerrvilletri.com/wp-content/uploads/2021/07/1121402_KerrvilleTri2021-DontLetOthersSayYouCant_070921_Feature_070921.png
400
495
Kerrville Tri
https://kerrvilletri.com/wp-content/uploads/2020/05/KERRVILLE-10-YEAR-ANNIVERSARY-LOGOKERRVILLE-HEADER-LOGO-WEBSITE-2020-300x111.png
Kerrville Tri
2021-07-12 14:35:24
2021-07-12 14:35:24
Don't Let Others Say You Can't Complete a Triathlon